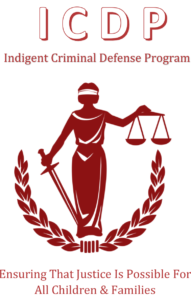 Through a grant from the Oklahoma Bar Foundation (OBF), this program is made possible. The program is designed to offer assistance to low or no income individuals who find themselves in the Criminal or Juvenile Justice System. Specifically, this program offers aid to those in the City of Muskogee Juvenile Justice System and those charged with misdemeanors in the Muskogee County District Court.
Program Contacts:
Jim McClure, ICDP Attorney
Yesenia Ochoa, Legal Assistant
We are here to help you if you can't afford an attorney and have an active misdemeanor case in Muskogee County, or an active juvenile case in the City of Muskogee.  Additionally, we are here to help you if you have fallen behind on your payment of cost and fines with the City of Muskogee or Muskogee County.
If you qualify, you will have access to an attorney at no cost to you, who will represent you through trial in the City of Muskogee – Juvenile Court or in Muskogee County – District Court.
Please call the Neighbors Building Neighborhoods offices, Legal Assistance Department at (918) 683-4600 to schedule an appointment.