Muskogee Community Anti-Drug Network (CAN)  Coalition
Contact: Clayton Tselee
The Muskogee Community Anti-Drug Network (Muskogee CAN) Coalition is a program of Neighbors Building Neighborhoods of Muskogee, Inc.
The purpose of Muskogee CAN is to prevent substance abuse in Muskogee and Muskogee County before it ever begins.
Muskogee CAN collaborates with many parts of our community—parents, schools, employers, community leaders, and media to help our community take a stand against substance abuse.
We are dedicated to providing our members and the community with news, insight, and possibilities.
We gladly accept and appreciate any suggestions from the public, and you are always welcome at our meetings.
Muskogee CAN Coalition Meetings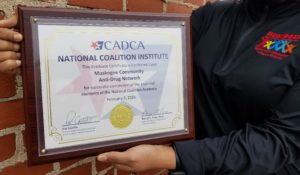 Third Thursday of Every Other Month at 10:00am
Nonprofit Resource Center – Training Center
207 N. 2nd Street
Muskogee, OK  74401
(ample parking in former Connor's College parking lots)