Download and Print the 2020 Participation Form Here:  2020 Dr. Martin Luther King Jr. Day Parade – Participation Form
The 2020 Participation Form can be picked up or dropped off at the MLKCC office during regular building hours, 9am-5pm – Monday through Friday, before Friday, December 20th 2019 and then when the facility and offices re-open after the holidays on Thursday, January 2nd 2020.
~ Dr. Martin Luther King, Jr. Parade & Celebration ~
Food vendors & food truck vendors wanting to sell products can set up in the parking lot on the day of the parade, and non-food vendors in the inside public classroom area, the fee for either is $25 and must be paid at the time your form is submitted.  (ALL food vendors must have a current food handler permit), the final deadline for inquiries is Monday, January 13th 2020.  Note: There is no fee to set up an indoor information booth or to be in the parade. 
All questions, please call the MLKCC at (918) 684-6314, the address is 300 W. MLK Street, Muskogee, OK 74401.
Here is the timeline on Monday, January 20th 2020:
• 7:00am to 11:00am – DREAM TEAM Pancake Breakfast. Cost is FREE, donations encouraged.
• 9:00am to 10:00am – MLK Day Worship Service
• 11:00am – Parade Line-up on 12th Street, the parade participation form is now available at the MLKCC.
• 12:00pm – Dr. Martin Luther King, Jr. Parade Begins, with a Car Show as part of the parade.
• 1:00pm to 3:00pm – Parade After-Party with Food Trucks, Live Music & Vendor Booths.
For the most up to date information, announcements or additions, please refer to the facebook event on the Martin Luther King Community Center page.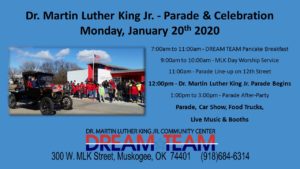 This event is co-hosted by the Dr. Martin Luther King, Jr. Community Center – Trust Authority.